Sometimes you need a fresh start, a new beginning. In fact, new beginnings are what Christianity is all about. Kernersville Community church got a fresh start and a new beginning in January 2016 when it changed it's name to Living Hope Church. This marked the completion of a 2 year long project to re-examine everything the church does from the color of the walls to the purpose of its existence.
Small Beginnings
In 1992, Pastor Ray Warren was sent out from Living Way Church in Greensboro (then Maranatha Church) to plant a new church in Kernersville. Their vision was simple. They wanted to "be a blessing" to the small town of Kernersville that they loved so much. A small group of people began meeting for a Bible study in Pastor Warren's home. Before long, they had outgrown Ray's living room and they began to rent a room in the basement of the Kernersville Library downtown. In 1998, they built a new facility just on the edge of town on Main Street.
That move put them within reach of Western Greensboro, Colfax, and Oak Ridge and so they began to grow with people from those areas. Kernersville is a crossroads community anyway, and soon Kernersville Community Church was no longer just about Kernersville.
Changing of the Guard
In 2007, Ray Warren turned the church over to a new pastor so that Ray could support foreign missionaries full time. The new pastor, Ben Cotten, brought a renewed passion for worship, community, and local missions to the church that bridged the original vision of the church plant with more modern appeal. KCC has grown in size and vision over those 8 years (as of 2016), and it has changed in innumerable ways.
Re-planting as Living Hope Church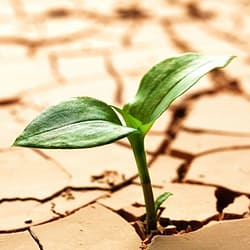 When you grow a plant from a seed, the plant begins its life in a small container. When the seedling is of adequate size and strength, it is re-planted into a larger vessel. KCC was very much like that healthy, growing seedling that needed to be replanted into a larger vision. Our core values have not changed. We are committed to faithfully following Christ, as He is revealed to us in the Bible. We are committed to authentic worship, Biblical preaching, and a spiritual community that is strong like a family.
Kernersville Community Church got a new name in January 2016. But it was not just a name. It was a fresh vision for worship as well as a new passion to show the community what God is like. Sunday, January 3rd marked our last worship service as KCC.  We spent those two weeks renovating our building and reaching out to the Triad with demonstrations of the kindness of Jesus. On Sunday, January 24th, we got our new beginning as Living Hope Church.
A New Beginning
If you are looking for a new beginning, consider joining us. Jesus offers fresh starts to all that ask. Our building is located at 1339 N. Main Street or visiting one of our Hope Communities that meet at various times during the week all across the triad.
Living Hope Church is a non-denominational gathering of Christians that worship Jesus and want to show the community what God is like.  We are made up of people from Greensboro, Winston Salem, High Point, Kernersville, and all points across the Triad region of North Carolina.